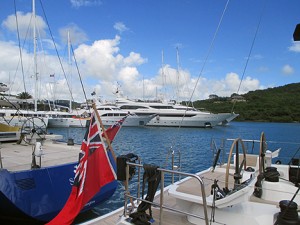 From 5-11 December members from the Northern Lights family visited customers at the Antigua Charter Yacht Meeting (ACYM).  The Charter Yacht Show was very successful with 105 yachts ranging in size from 60 ft to 295 ft.  In addition there were another 40-50 yachts in Falmouth Harbour which were not in the Show.
Two Northern Lights representatives – Global Director of Business Development Mike Prado, and Product Development Manager Chris Krok joined Tom Gerker from NL Distributor Parts & Power visiting vessels on Falmouth Harbour Marina, the Yacht Club Marina, the Dockyard Marina and the Catamaran Marina.  They found many of the yachts had Northern Lights products on them, both generators and Lugger propulsion engines.  In most cases they received nothing but favorable reports from Engineers and Captains, and the crew was uniformly impressed and grateful that NL factory representatives were available to discuss their issues.  A few vessels had questions or problems that Chris and Tom were able to address.  In many cases they found a recurring theme that they had discovered at previous Shows.  Many of the NL customers simply needed advice on how to maintain their Northern Lights equipment, and where to go to get information.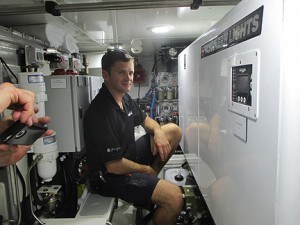 They found that, in some cases, customers were overhauling their generators prematurely.  Because they had owned competitor's products in the past who recommended overhauls at 10, 15 or 20,000 hours, they felt that they had to do the same on their NL product.  One customer, who had always done meticulous maintenance, overhauled his 155 kw generator at 20,000 hours. He found so little wear that he was tempted to re-use his main bearings.  Chris and Tom recommended using oil analysis and valve adjustment measurements to monitor wear, as many Northern Lights generators run well past 30,000 hours with nothing but routine maintenance.
Northern Lights was the only engine or generator manufacturer who attended the show, and have done so for over 15 years, to meet their customers and get their feedback on the performance of their equipment.  Having the Product Development manager at the show allowed him to hear the Voice of the Customer to make changes and improvements to the current product and get an idea of what customers were looking for in future products.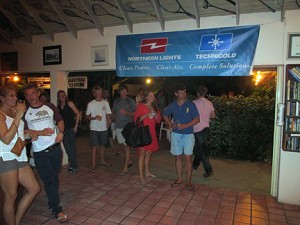 After 4 days of visiting customers, Northern Lights, along with local dealers Seagull Services and Marine Power Service, threw a Crew Party at Temo Sports.  The crew were able to relax without brokers and owners present.  115 past, present and future NL customers were in attendance.  Master of Ceremonies, Chris asked Trivia questions and gave out prizes to the participants.  It was a great crowd of engineers and other crew who mingled with their counterparts from other yachts.  Wonderful fellowship was shared and a good time was had by all.  The friendly staff at Temo Sports, as they have for many years, kept the drinks flowing and the crowd happy.