Captains speak very highly of the mechanical engineering skills of Erwan Le Normand and his team at Caraïbes Diesel Services.
Erwan started his own company – Caraïbes Diesel Services – in 2007. He previously worked with the former CAT agent in St.Martin for ten years, and Caraïbes Diesel Services now holds the main agency for CAT and Volvo Penta on St.Maarten / St.Martin. Before arriving in Saint Martin he studied at the reputable school of Etel in Brittany, France.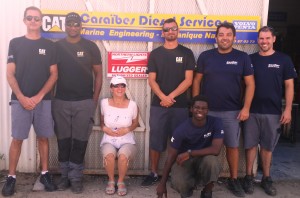 Caraïbes Diesel's large workshop is located at Sandy Ground on the French side os St Maarten. They can be found near Marina Port Royale (from the lagoon direction), and the Beach Plaza hotel (from the road). They have a workshop dock to ensure a speedy service by water across the lagoon to provide service to yachts in all the main marinas. Language is not a problem as all four factory trained mechanics and one electrician on the team speak English.
Whilst specializing in Caterpillar and Volvo Penta, this highly professional team work with all main and auxiliary diesel engines including MAN, Perkins, Northern Lights and Yanmar. The company's quality of service is so highly rated that Erwan services the French coastguard and 'douanes' vessels including full large engine refits.
Caraïbes Diesel's parts store stocks a large range of over 2,500 items covering all manner of spares, belts, filters, lubricants and oils for CAT and Volvo Penta. From simple oil filters and injectors, to engine blocks and generators, they stock it!
This testimonial from a Captain sums up Caraïbes Diesel Services: "Erwan and his team provided a really good service when carrying out a complete rebuild on a Caterpillar engine – and delivered on time!"