NEW NORTHERN LIGHTS DEALER IN VIRGIN GORDA, BVI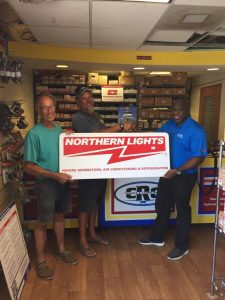 On Feb 6th 2019, Parts & Power salesman, Tony Tuckett, met with the Caribbean's most recent Northern Lights Dealer, CRC Engines and Fabrication of the Valley, Virgin Gorda.  Pictured are Tony and Geoff Cooke.  Behind the sign is company founder, Chris Cooke.  CRC was founded in 1993 on Virgin Gorda.  The company provides Marine and Industrial Engine & Generator service, as well as fabrication.  They are a major sub-contractor for the Boat Yard at Virgin Gorda Yacht Harbour.
CRC are dealers for Yanmar, Yamaha, Algae X Fuel Conditioner.  With their expansion to Northern Lights, they now represent the preferred choice of most charter crews, and many bareboat fleets in the Caribbean.
For more information, please contact Chris Cooke at 284-495-5262, 284-547-8333 or Chris Cooke (chris@crcenginesbvi.com).